Save Climate, surmount Capitalism, stop this Sad-Mad-Dead-Machine – Ende Gelände 2016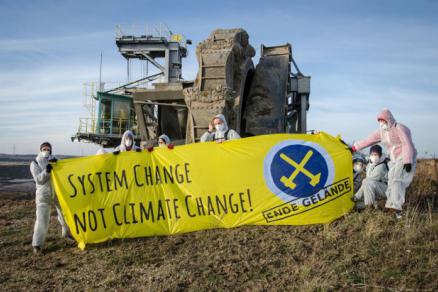 Climate change is an existentially threatening reality, severely affecting already many millions all over the world, especially people in the global south. The droughts and floods, the social and ecological effects of climate change are always worst for the poor. Exploitation is intensified and means for subsistence and reproduction in general are destroyed.
Thus it is not surprising, that climate change is one of the key drivers behind current migration in Africa and Asia and also to Europe. The rich countries of the global north are primarily responsible for global warming as well as for the violent extreme, deeply anti-democratic extent of global social inequality. Thereby they are closing their borders with ever higher walls which already have killed tens of thousands of refugees. To us solidarity means to fight for the right to stay as well as for the right to go somewhere else. Nobody should be forced to flee, hence the ongoing destruction of life-conditions and life-base of people has to be stopped immediately.
The fossil fuel corporations, who are the biggest polluters, continue with their business as usual even after a wordy resolution has been adopted in Paris. The example of coal shows how a few major corporations in their endless pursuit for profit destroy the life-base of all of us.
Germany is a very good example for the contradictions of the established climate politics. After strong civil society movements have fought for nuclear phase-out and renewable energy, the German government tries to create the impression to be a paragon of climate protection. Meanwhile it's doing everything to stimulate economic growth and to save the profits of big energy corporations, which have been struck before by the nuclear phase-out. Germany has one of the highest percentages of coal in its power generation and the highest yield of lignite worldwide. The growing capacity of renewable energies is not used to shut down coal power plants but to export more electricity to neighbouring countries. Even the experts employed by the government say that Germany won't meet its modest CO2 reduction targets.
Taking climate change seriously we have to stop burning coal, gas and oil and massively reduce energy consumption - not in fifty years, but NOW! Though a market-based economy focusing on profits isn't able to do that. All gains in energy efficiency have been countered by the endless hunger for growth of global capitalism. This is why Climate Conferences can state we have to stay below 1,5°C, nevertheless Carbon Dioxide Emissions are still rising.
A System that places the pursuit of profit of a few above protecting the life-base of humanity has to be ended. Trusts and big corporations won't stop their destructive business, if we don't take away their ability to continue with it. Big enterprises have to be socialized, especially the fossil fuel industries. Energy production has to be decentralized, put under democratic control and transferred to renewable sources right now. The production in general has to be focused on human needs, not on profit and permanent growth.
Swedish company Vattenfall is a good example, showing that nationalization is not a solution in itself. As one of the "Big Four" energy corporations in Germany it has made insane profits for too many years with its lignite mines in Lusatia. Vattenfall was forced to offer its coal-mines for sale by the green and social democratic parties of the swedish government. Being Europe's biggest sale of a fossil fuel industry at the moment, it would allow Vattenfall to get rid of its responsibility for loss and damage caused by the mining and would very likely even increase the intensity and range of destruction, since potential investors want to stay profitable.
We don't accept a business as usual with a different corporation and demand an immediate stop of the lignite mines. Vattenfall with all the profits it has earned over decades has to support a just transition to a different economy in the region. It's our firm decision: the coal has to stay in the ground.
The struggle against climate change can only be successful, if we rain on the parade of capitalist corporations and overcome this misanthropist economic system. And this is up to us, the people - no government will do it for us, instead we have to push governments.
In August 2015 over 1.000 people have shown how to do that by occupying the lignite mines in the Rhineland. From 13th to 16th May 2016 we are becoming the Investment Risk in Lusatia: Together with a lot of people "Ende Gelände" will occupy Vattenfall's lignite mines there and bring the sad-mad-dead machines to a grinding halt.
System change not Climate Change!
Solidarity for ALL !
May,13th-16th:
Let's get together for mass disobedient climate action occupying a lignite mine in Lusatia / East Germany!
Find more info on https://www.ende-gelaende.org/en
Allt åt Alla Stockholm
Interventionistische Linke